The customer is king. Everyone takes that old saying as gospel. But is it still true today? Is the customer always right? I am really starting to wonder.
I ordered a new washing machine from Samsung, the old one packed in a week ago, annoyingly just outside its warranty period. Ordering online on the Samsung website was a breeze and I quickly secured a delivery date for the following day. I paid an additional £29 for what Samsung call Premium Installation, which includes installing the new washing machine and taking the old one away for recycling.
After paying, I received an email from Samsung confirming my order and providing me with an order number. The South Korean multinational conglomerat said I would receive another email once my order had been dispatched.
An hour later, another email arrived, this time from a company called Panther Logistical Experts who trade under the company name Panther Warehousing Ltd and are Samsung's outsourced delivery partners. This email confirmed the date of my delivery, and told me that I would be contacted in the evening with a delivery time slot for the next day, and in the meantime the email contained a button I could click to track my order.
This email from Panther Logistical Experts also stated that they would like to ensure that my delivery is "a quick and pleasant experience". It then went on to ask me to make the following checks and preparations ahead of my delivery:
"Please check and prepare the route the driver will take to your property entrance and, if your order is a 2 MAN delivery, ensure there is safe and unrestricted access to your room of choice so that they are able to carry out the delivery safely and quickly.
Whilst our drivers do take every care while at your property, please ensure that any carpets or flooring that will be on the driver's path during the delivery of your items are sufficiently protected. This will help prevent any unnecessary accidental marking or damage occurring during the delivery process.
We would also ask that you remove any fragile items such as ornaments and pictures to prevent any unnecessary accidental damage to them.
Thanks in advance for your help in making your Panther delivery a smooth one."
At no point, in communication from either Samsung, or Panther Logistical Experts, did either of them tell me that it was my responsibility to disconnect and unplug my old washing machine.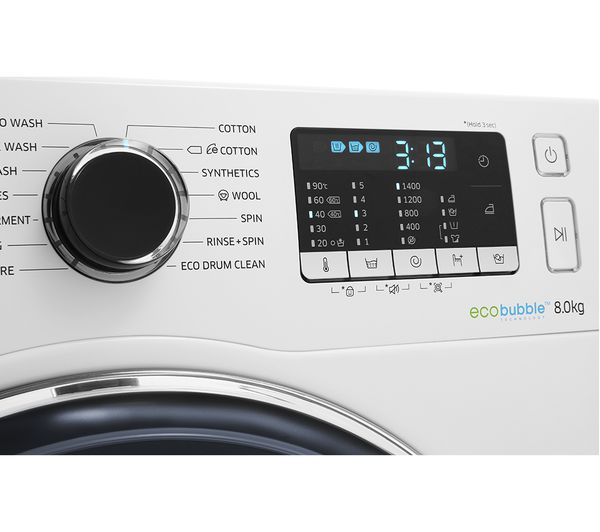 The day of delivery arrived and I was excited, and relieved, as I had been without a washing machine for seven days and it was starting to get really inconvenient. My delivery slot was between 12:30 PM and 2:30 PM. I was pleasantly surprised when my doorbell rang at exactly 12:30 PM with two operatives from Panther Logistical Experts there with my new washing machine.
The lead operative, who was a bit of a nervous chap, came in and noticed that my existing Samsung washing machine, (almost identical size and model), was still in situ under my kitchen worktop and that he would have to pull it out to install the new one. He asked me if it was still plugged in and I said yes, and then he got even more nervous and said: "this happens all the time, they should be disconnected in advance". Nonetheless, he started to pull my old washing machine out from under the worktop, and I thought, great, this man is not a jobsworth and is going to go the extra mile to get my new washing machine installed. However, when he noticed a small, lightweight stand-alone fridge freezer was in the way, and the fact he may have had to move it a couple of feet to allow the old washing machine to be pulled out, he got even more nervous and decided to phone his manager.
He explained the situation to her, that he was not willing to pull out and unplug my existing washing machine because my fridge was in the way, and he sought her guidance. He then decided that it was better that I spoke to the manager directly and so I did using his phone on speaker phone. Things got off to a bad start when she insulted me by saying that "common sense" should have told me that the old machine needed to be pulled out and unplugged by myself first. At no point in communication either from Samsung, or Panther Logistical Experts, was there any instruction to unplug my existing machine.
Against this background, I am severely physically disabled and in a wheelchair, and not able to pull out the old machine and unplug it myself. If I had known in advance, through email and SMS communication from Samsung and Panther Logistical Experts, of which there is rather a lot, (bombarded with messages actually), I would have made arrangements for a friend to see to this for me in advance of the delivery.
It is obvious that uninstalling my machine and pulling it out is literally a two minute job especially for professionals, even if it wasn't clarified in the order confirmation I received from Samsung that this was my responsibility. Panther Logistical Experts had two strong men with bulging biceps here in my home for paid installation and it would have been possible for the manager to make a different decision and ask the two operatives, as a one off, to do the right thing and pull out and unplug my old machine. Instead, all the manager kept repeating was: "take the matter up with your retailer".
After I gave up on trying to get the manager to see sense, the lead operative said: "I am not being paid to do this", and two fit and able bodied men left a new washing machine standing in my kitchen, not installed, causing a massive obstacle and inconvenience, with me in my wheelchair looking on in a state of disbelief that companies can behave in this petty, jobsworth manner in 2020.
I am disappointed with the operatives because they could have helped. Most right-thinking people will say how could they walk away from somebody in my situation. I would have been willing to slip them a tenner for their trouble if they had offered to help but they didn't. It is so infuriating to see two young, fit thirtysomethings, with bulging muscles from carrying these heavy goods in and out of homes all day every day, and they were not willing to spend a couple of minutes helping me out. I know they are probably on the minimum wage, and under pressure with having to fulfil lots of deliveries in one day, but nonetheless I think they could have been more flexible. My father, if he lived nearer, could have swapped the machines over with no problem and he is 81.
However, I am even more disappointed with the manager from Panther Logistical Experts who on the telephone insulted me by implying that I had no common sense because I didn't unplug my old washing machine myself. She could have reached a different conclusion and asked the operatives to disconnect it as a one-off and they would be recompensed with a small bonus from the company in their next pay packet.
Ultimately, both Samsung and Panther Logistical Experts need to improve their communication with customers. They have a business trading relationship and they are both emailing and sending SMS updates to customers regarding deliveries and installations. They really should flag up in their communication to customers exactly what our obligations are.
The manager had a chance on the telephone to prevent any adverse publicity and she decided not to take that opportunity. More fool her. A lot of businesses get credit, and good publicity, from customers when they go the extra mile. When they behave like jobsworths, especially towards vulnerable customers, their reputation always suffers.
My contractual agreement is with Samsung but I simply said to Panther Logistical Experts to spare me the health and safety crap, and that they are not insured to unplug my old machine.
After the manager refused to let the operatives unplug my old machine I was given the unenviable and stark option by the lead operative of letting them take away the new machine and arrange a new delivery and installation once I had arranged for a friend to unplug the old machine. This wasn't practical as I desperately needed a working washing machine.  Being physically disabled I am very reliant on a working washing machine.
I told the lead operative I would keep the new machine and get a friend to carry out the simple job of installing it. With that, he said I would have to sign for it or he would not leave my already bought and paid for machine with me. It's regrettable I had to tell him three times that I couldn't sign for it because of my disability and my carer could sign for it on my behalf. Panther Logistical Experts should arrange for their operatives to undergo disability and equality training.
All in all, a shabby, tawdry customer experience from Panther Logistics. There was nothing smooth or pleasant about this delivery.
I've spoken to a couple of friends since my delivery and they have told me that when they have bought new washing machines with installation included from other retailers, such as Currys and Argos, their delivery operatives have always been willing to unplug their old machines before installing the new ones.
I contacted Samsung immediately after the delivery. Their call centre is based in the Philippines. I eventually got hold of a manager who gave me the customary but ultimately meaningless apology for my experience and said he would arrange for my old washing machine to be collected for recycling. Thanks Samsung, I have already paid for this! He could not give me a timescale on when. It was Friday afternoon, the start of the weekend, and I had to drag it out of him that it would probably be Tuesday at the earliest. In the meantime, the old machine sat, taking up space and obstructing my mobility, in my living room.
I am lucky that I have a handyman friend who was able to visit me on Friday evening to install the new washing machine and do Samsung's job for them. It was a godsend and we were then able to catch up on a week's backlog of washing.
The old washing machine sat in my living room all through the weekend. Just as well I wasn't entertaining as it was a bit of an eyesore. Monday morning arrived and at 9 AM I expected a call from Samsung. By 11 AM I had heard nothing so I contacted them and again came the familiar polite but meaningless apology. After spending some time refreshing their memory on what had happened to me during the delivery on Friday they eventually arranged for the old machine to be collected on Tuesday afternoon.
Rather than doing everything to make me more loyal than ever before, Samsung took their time to resolve things without a hint of urgency. They could potentially lose me as a customer for life—and, like most companies now, they need us customers more than we need them.
I expected, perhaps naïvely, that my email and call of complaint on Friday afternoon would have set off an alert on Samsung'a CRM system, and like a group of firemen in the middle of the night, they would have mobilised. Contemplating the risk of reputational damage, I thought they would have tried their best to close down my complaint with prompt collection of my old machine, and perhaps the small gesture of a refund on the £29 that I paid for delivery, installation and collection. No such luck.

The King really is dead in the UK in 2020.