At its WWDC event last week, Apple unveiled the latest versions of its major operating systems: iOS 15, iPadOS 15, MacOS Monterey and WatchOS 8. While these updates include some eagerly-anticipated new features — like enhanced privacy options, FaceTime calls coming to Android users and dual-screen controls for working across Macs and iPads – there were some features that didn't get highlighted as accessibility features in the keynote but will be extremely useful for people with physical disabilities.
Here are some of the software features and tools coming to your Apple devices later this year that will be a boon for some in the disability community.
Announce Notifications
It may not be immediately obvious that there were any big, new accessibility announcements at WWDC 2021, (Apple trailed several in mid-May via a press release), but this would be to do Apple a disservice because dig deeper and you can see accessibility is driven right through the company's operating systems this year.
As part of iOS 15 Airpods is getting a significant new feature. With a new Announce Notifications feature the company's wireless earbuds can speak notifications to you as well as incoming phone calls and messages. Apple says Announce Notifications gives users the ability to share what's on their screen just by asking, and more.
This really leapt out at me as particularly useful to disabled users who have difficulty picking a iPhone and touching the screen. Having all your incoming messages read out in your AirPods automatically, (as well as the granular control of those with a new Focus notifications feature), will be extremely helpful to users with upper limb disabilities. At the moment if you ask Siri to read your messages and notifications she'll say: "you'll need to unlock your iPhone first", which can be frustrating and inaccessible as some people are unable to touch the screen and unlock their iPhone.
AssistiveTouch for Apple Watch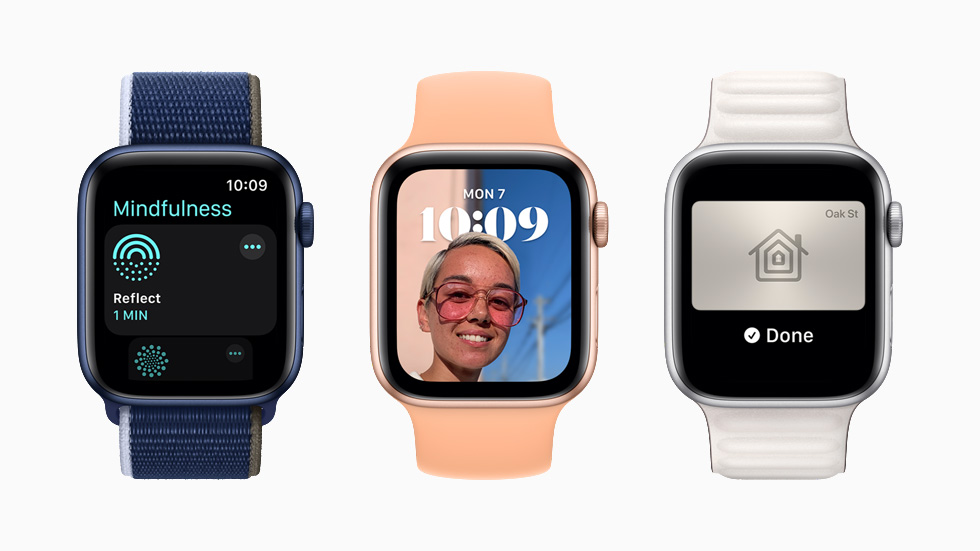 AssistiveTouch for Apple Watch is a new dedicated accessibility feature, which helps users of the company's wrist worn computer answer calls and more with hand gestures without touching the watch face or controls. Potentially, it could be a really transformative feature for some users with upper limb disabilities.
YouTubers, who have downloaded the first developer beta of watchOS 8, have been demoing the feature and it looks as though it's reliant on users turning and raising their wrist slightly to look at the Watch face to control and follow a curser on the screen. This is something that some people with severe upper limb disabilities can't do. Some will need be able to control the Watch, almost blind without a clear view of the watch face, with a few simple hand gestures. For example, clench to answer a call, double clench to end a call, pinch to launch Siri, double pinch to tell the time.  It will be interesting to see if Apple will allow users to customise Watch functions to various gestures. This would be really useful.
Siri on-device speech recognition
Apple's virtual assistant Siri, and speech recognition generally, was an unexpected highlight of WWDC 2021, thanks to a string of enhancements across all of the company's devices.
This is very good news for people with physical disabilities who rely on voice to control their devices. Apple said later this year Siri will work without a Internet connection with on-device speech recognition, and will process requests faster too.
Speech recognition will also learn on device as you use it, which should improve accuracy with fewer mistakes, saving vital bits of energy as more of the words that you dictate are understood correctly.
Obviously, if you don't have an internet connection, then you won't be able to carry out certain Siri functions like searching the web. But you can use Siri for simple tasks, like opening apps, setting timers, controlling your music, and so on. Making these functions faster and accessible offline is great for accessibility.
However, it is worth noting the feature will only be available on iPhones and iPads with its A12 Bionic chip or later, and no currently available Apple Watch will be compatible.
Apple also revealed that with the new on-device dictation in macOS Monterey on Mac computers you can dictate text of any length without a timeout (previously limited to 60 seconds). This should improve the speed and accuracy of long form voice dictation going forward as long as you have invested in a M1 Mac computer. This enhancement will not be available on older Intel models of Mac computers.
Siri personal requests
iOS 15 also implements Siri personal requests with the 'Unlock with Apple Watch' feature. iOS 14.5, which was released to the public earlier this year, brought a new feature that lets users unlock an iPhone using the Apple Watch instead of Face ID when wearing a mask. With iOS 15, Apple is extending this feature by enabling personal requests to Siri when the "Unlock with Apple Watch" option is turned on. This will have benefits for anyone who can't touch the iPhone screen to unlock it. In practice, it means If you have your Apple Watch unlocked and on your wrist, with this option enabled, you can now ask Siri to read your messages or change iOS settings without having to hold your iPhone, unlock with Face ID, or enter your password. This will be tremendously beneficial to disabled users.
Controlling your home with your voice
Controlling smart home devices like lights, blinds, thermostats and more with just your voice is often very liberating to people with physical impairments, and Apple made it clear at WWDC that it wants to make Siri and HomePod Mini a bigger part of your home with this year's updates.
HomeKit, the company's smart home application, is getting some substantial upgrades this autumn in iOS 15, tvOS 15, and WatchOS 8. HomeKit keys, camera improvements, Siri devices, and more are coming to Apple devices later this year.
However, the most significant announcement was Apple opening Siri to third-party accessories. For the first time, HomeKit devices will be able to answer Siri queries. A ecobee SmartThermostat is set to be the first thermostat with Siri voice control integration later this year.
Also, Siri will be able to perform HomeKit tasks at specific times. For instance, you can say, "Hey Siri — turn off the living room lights at 7:00" or "Hey Siri — turn on the thermostat when I get home."
Briefly mentioned at the keynote is that HomeKit is getting Matter integration. Matter — formerly known as CHIP, is the latest attempt at creating a unified smart home standard and is backed by Apple, Amazon, and Google, and others.
We should begin seeing the first Matter accessories later this year. Matter accessories will just work with all of the major smart home platforms and voice assistants right of the box or through updates.
Needless to say, this would be huge for HomeKit, and for disabled users who rely on voice control of their smart home devices.
What Apple still didn't give us
When Apple unveiled its operating system updates this year there are several accessibility features that are missing, or it's unclear whether they will be included this year. Here are some of the software features that I thought might make an appearance Monday's event, but did not.
Unfortunately, I don't think Apple will introduce the ability to end a phone call with a voice command in iOS 15. For example, "Hey Siri end call". The lack of this ability is so frustrating for users who can't end a phone call by touching the red button on the screen. However, the good news is I have strong grounds to believe that Apple is focused on enabling this soon, and it won't be a long wait.
Will Siri be able to turn the auto-answer accessibility feature on and off as it can other accessibility features? It's my understanding Apple is working on enabling this but it's not clear if this will come to pass in iOS 15. It will be a case of watch this space over the coming weeks.
Will the auto-answer accessibility feature come to the Apple Watch cellular? Again, it's not clear at present if this ability will be included in watchOS 8.
If any Apple engineers are reading this, hopefully, it isn't too late to get these much-needed improvements over the line this year.
Wrap up
These are my initial reactions to the WWDC 2021 announcements as a user with a severe physical disability. I'm not a developer so won't be able to say much more until the public betas are out next month and I can give all the new features a try.
What I can say is Apple's commitment to the idea of inclusive design is becoming ever more apparent in the company's 2021 updates. With a rich mixture of dedicated accessibility features like AssistiveTouch for Apple Watch, and mainstream features useful to everyone, like Announce Notifications and Siri personal requests, the company is leading the way and showing the world that Apple devices are truly for everyone.
WWDC is only a sneak peak of the new features your devices will be able to perform later this year. They will be tested and honed by Apple engineers, and developer and public beta testers, over the summer leading to an autumn event where Apple is set to unveil the iPhone 13 and more.