Ray-Ban Stories are wearable smart glasses that give you a new way to capture photos and video, message and call with WhatsApp, listen to music, and like all sunglasses protect your eyes from glaring rays on a sunny day.
Launched in September 2021, these wearable tech spectacles are a collaboration between Facebook (aka Meta) and Luxottica (the parent company of Ray-Ban the sunglasses maker).
The Wayfarer-style glasses feature a pair of cameras for photos and videos, as well as microphones and speakers. They connect to a Facebook app on your smartphone called View via a Bluetooth connection.
Ever since I tried Amazon's first attempt at smart glasses in 2019, the Echo Frames with Alexa built in, I am convinced that augmented reality AR smart glasses with voice control have huge potential for extending the independence of severely physically disabled people who can't use their upper limbs, and blind and visually impaired people too.
The Echo Frames are not equipped with cameras to take photos and shoot video so they left me with a feeling of wanting more from this type of wearable technology.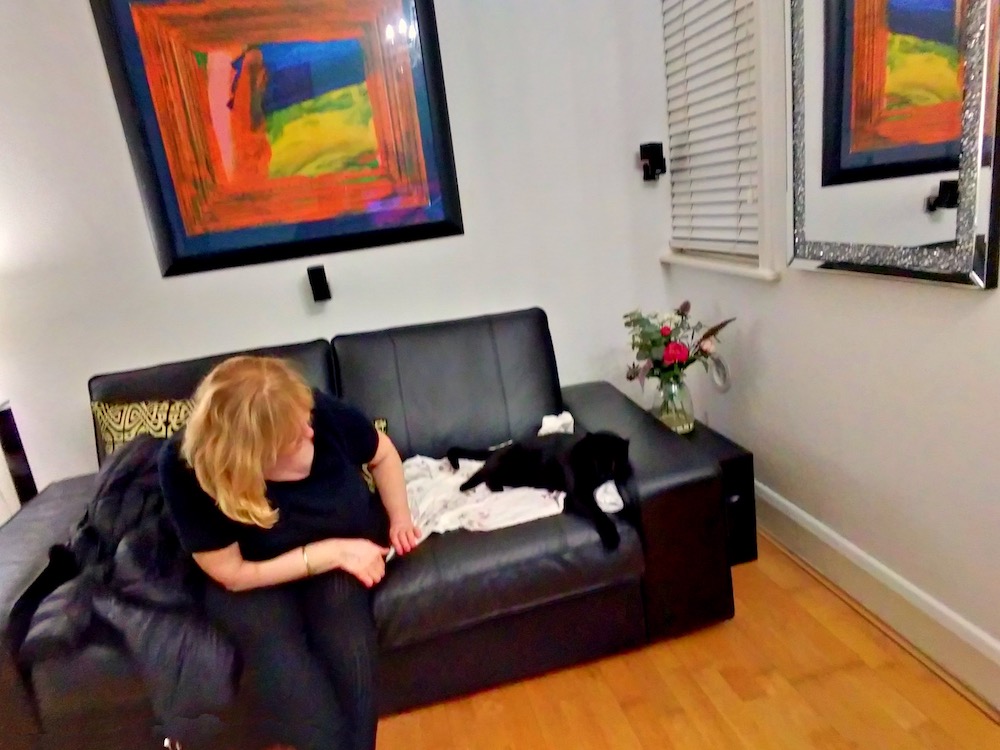 This photo represents a historical personal moment – granted not the greatest photo ever taken – but the first photo I have been able to take MYSELF in my adult life thanks to Ray-Ban Stories smart glasses, which I picked up from the company's store in Covent Garden in London earlier this week.
To put the personal significance of this photo in context, the first mass-market camera phone was the J-SH04, a Sharp J-Phone model sold in Japan in the year 2000. In the 22 years that have passed by since then folk have been snapping photos and videos billions of times every day.
However, until now, due to severe physical disability this has been a fad that has completely passed me by. Muscular dystrophy has meant I don't have any strength in my upper limbs limbs and hands to pick up a smartphone or camera. I have never been able to capture a special moment, a birthday, a family Christmas, or a memorable holiday backdrop with a smartphone or camera.
Much to admire
Ray-Ban Stories have much to admire from an accessible tech perspective. The on-board microphones let the glasses be controlled by voice, for a hands-free experience.
The ability to take photos and short videos with voice commands like, "hey Facebook take a photo", and WhatsApp integration for calls, messages, and messages read out to you, adds up to a lot when you can't use your hands and want to capture special moments, and stay connected with friends and family.
It's starting to look a lot like Christmas
Not on Richard E Grant's level, but it's starting to look a lot like Christmas here, as you can see in one of the first videos I have been able to shoot with the Stories.
Sure, some will knock the sound and picture quality. The Ray-Ban Stories feature open-ear speakers to listen, and a three-microphone audio array for calls and videos. The sound quality will never satisfy a audiophile and the picture quality pales in comparison to what you can take with a mid range smartphone.
Others will be concerned about privacy, calling the specs creepy because they have cameras and are Facebook produced, a company with a complicated relationship with user privacy.
However, if you are sat in my shoes you will see this wearable device completely differently. Ray-Ban Stories open up endless possibilities that have not been possible for me until now.
I have only used the glasses for a couple of days so far, and this is not a full product review, but I can already see they could well be my tech gadget of 2022, and that says something when I am a proud owner of the Apple Watch Ultra.
You can get Ray-Ban Stories with transition and even prescription lenses. Prices start from £239.20 on sale in the UK at the moment.
Facebook seems to be improving the product all the time. At the end of July, almost a year after they were first introduced, the company brought hands-free WhatsApp integration for messaging and calls, which is useful and works well. Another feature that is coming soon in a software update is the ability to make and receive phone calls and SMS.
Room for improvement
Whilst speech recognition when dictating WhatsApp messages, and issuing a handful of available voice commands to the "hey Facebook" assistant is fairly accurate Ray-Ban Stories do lack some of the advanced features of more mature voice assistants such as the ability to dictate emoji in messages, and basic punctuation like question marks.
Once you have taken a photo or a video, restricted to 30 seconds or a minute in duration, you need to open your phone and go to the companion View app to download the photo before you can share it. This is something I can't do when out and about as I can't use my hands so it would be helpful if Facebook introduced the ability to share the last photo or video taken with a voice command to WhatsApp. For example, "hey Facebook share my last photo with mum".
There is no ability to control smart home devices with voice commands like you can with Amazon's Echo Frames. It would bring an added ease of life convenience if you were able to use your Stories and it's on board assistant to turn the lights on, thermostat up, and the TV on and off with voice commands.
When it comes to music Ray-Ban Stories do have some integration with Spotify; called Spotify Tap but control isn't with voice commands. You need to tap and hold the frames to trigger Spotify to play music through the glasses. This is something that people with severe upper limb disabilities often can't do.
The Bluetooth connection does allow you to play podcasts and music through the glasses with a streaming service like Apple Music but you will need your phone and an app to do that.
Accessibility
For a first generation device the Stories are refreshingly accessible out of the box but it's a pity that there are no accessibility settings in the companion View app so that users can fine tune the glasses to their particular needs. Hopefully, this is something that Facebook will think about either in a future software update, or in the next generation.
Smart AR glasses potential
I believe that augmented reality smart glasses could be transformational for disabled people. Glasses are easy and comfortable to wear all day, more comfortable than earbuds in my opinion, and with a voice controlled AI smart assistant baked in, this class of wearable has great potential for extending the independence of disabled people.
There are other accessibility applications that are using wearable head gear to help disabled people.
For blind and visually impaired people, there is Enivision AI, using Google Glass to do all the object, text, and face recognition, and so on.
The ARx Vision headset also operates in this area. I had the pleasure of talking to ARx CEO Charles Leclercq earlier this week and we very much share the vision of voice controlled AR head gear extending the independence of disabled people.
Ray-Ban Stories are not there yet but Facebook's ultimate goal is true "augmented reality" AR glasses – devices capable of putting a digital layer over reality itself. I yearn for the day when I can visit an art gallery and look at a famous painting and AR glasses with voice AI will show me and tell me all about the painting without having to read a guidebook, or open a smart phone for more information.
What was once the stuff of science fiction, putting on a pair of glasses that look exactly like normal spectacles but having access to a computing universe in front of your eyes, and Voice AI in your ears, is fast becoming reality, and it has huge opportunities for severely disabled people.
Sum up
Aesthetics and how products look is important to me when it comes to technology, especially gadgets that are meant to be worn. I have always liked the classic Wayfarer sunglasses design and Ray-Ban Stories look just like standard Wayfarers. They look like fashion objects, something you would actually like to wear on your face.
As a piece of consumer tech gear, I like the Stories: I'm looking forward to getting some nice shots of my cat looking back at me through them, and sharing my stories from my perspective.
I'm comfortable with wearing them in public because I think it will be obvious to others that I am using them for accessibility purposes and not acting like a snooper trying to invade someone's privacy by surreptitiously recording them.
If there is one area that slightly concerns me is sharing my world through Facebook but the company says there are multiple privacy safeguards built into the technology, and for the accessibility advantages the Ray-Ban Stories offer me, it's a risk I am willing to take.
Hopefully, one day Apple will introduce its rumoured Apple Glass AR spectacles and I will be more comfortable using Apple's tech when it comes to privacy.
I have promised my friends and family I will try and resist the temptation to spam them with too many irresistibly cute photos and videos of my cat but photos of cats is what the internet was invented for, right?
Facebook and Ray-Ban did not intend it but these smart glasses are another stride in tech, which positively impacts lifestyle if you live with a severe physical disability.