Echo Frames are an Amazon Day 1 product released earlier this year. Day 1 products are pilot products for testing that may or may not get released to consumers.
In autumn 2019 Amazon announced it would be launching smart glasses with Alexa built in called Echo Frames as a Day 1 product. The company invited people to register their interest to get the glasses at a lower price than what the full price will be if they get released to the public.
As a early tech adopter I couldn't wait to get hold of them so I registered for an invitation on the Amazon website but didn't receive an invite to purchase the device at a reduced $179.99 preview price until mid July.
I am based in the UK and was surprised that despite making my location known, when I registered my interest in testing the glasses, the invite to purchase I received stated the company would only ship to addresses in the USA. This didn't deter me and I soon found a shipping address service in California and paid for the Echo Frames on the Amazon.com website.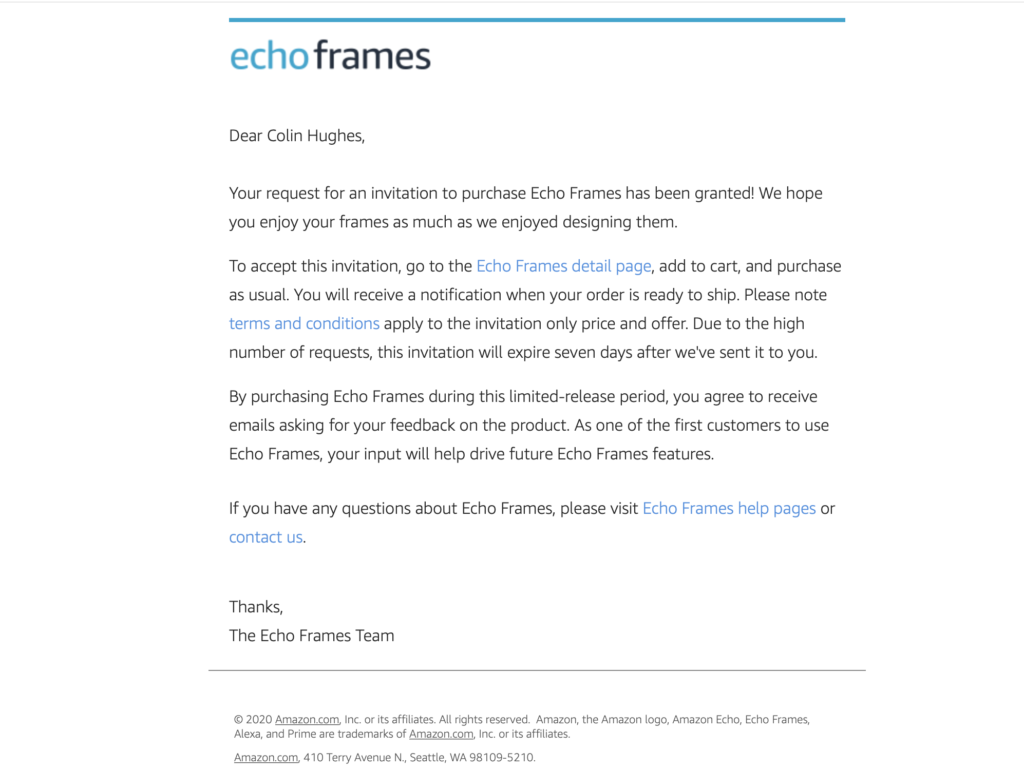 I had been concerned that the Echo Frames wouldn't work in the UK but my fears were allayed when a member of an Amazon Alexa Facebook forum I am a member of told me that they had set up the Amazon Echo Auto when it wasn't previously available in the UK. I was told all I had to do was phone Amazon.com support and they would transfer my Alexa app account (needed to set up the Frames) to the USA temporarily for a few minutes to complete the setup process.
It was an expensive way of getting the glasses as I had to pay the shipping address company $10, another $50 to DHL to ship the product to the UK, and $50 in customs fees. However, being a gadget freak and really curious to try them out, I felt it was money well spent.
Despite the elongated way of ordering I received the Echo Frames within a few days of placing an order in the normal way on the Amazon website.
Unboxing and first impressions
The Echo Frames come in a simple black cardboard box and inside there is a proprietary magnetic charging cable, a case with which to store the glasses, instruction manual, and the glasses themselves.
They don't come with a camera like the $1500 Google Glass, which was one of the first smart glasses products released in 2013. The Echo Frames are a much cheaper and simpler offering.
As soon as I took them out of the box and put them on my face the Echo Frames felt comfortable, as if I had worn them for many years. I don't often get that feeling with new glasses, which normally take a bit of time to get used to.
The sides of the glasses frames that sit on your ears are significantly thicker than most glasses because this is where the electronics are housed: two microphones, four speakers, battery and controls. One of the side arms has a touch and swipe sensor and there's also a button for power as well as rocker buttons to adjust the volume.
It's worth noting that the Echo Frames come with clear non-prescription lenses out of the box though Amazon provide instructions that you can take to your optician to have them fitted with prescription lenses.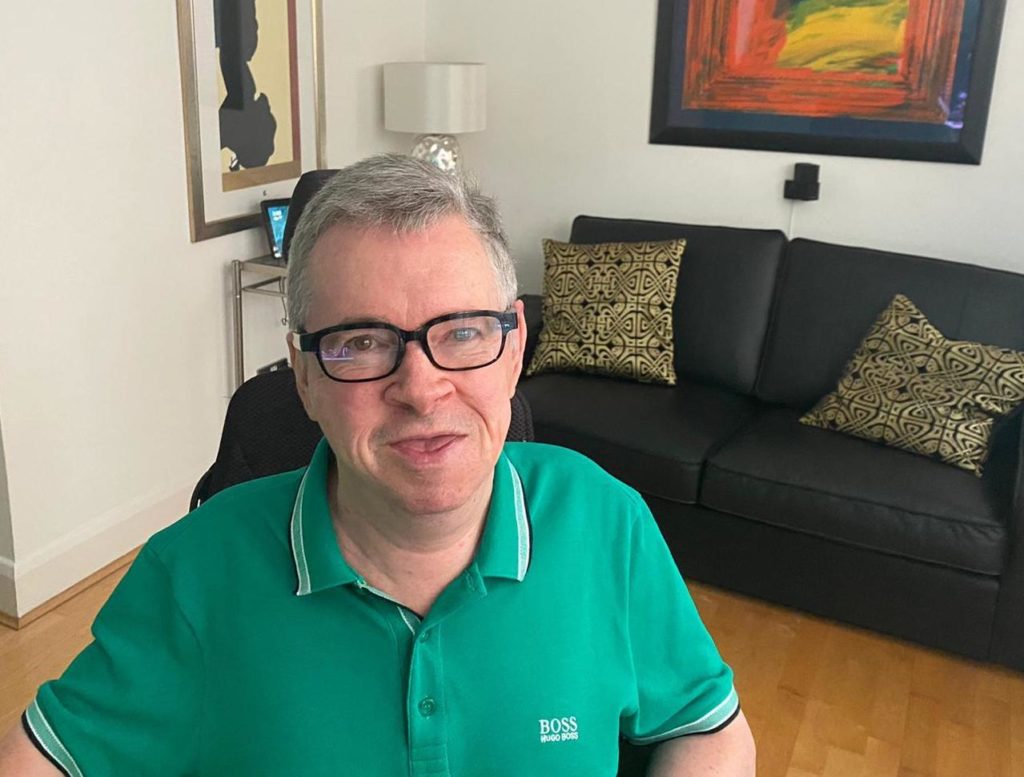 They only come in one style and colour, black, and in terms of looks they are a cross between Joe 90 and Clark Kent without the superpowers, despite Alexa's best efforts. Their look won't be to everyone's liking but I quite like them and for me it was more important that they fitted well and were comfortable all day.
Setup
Because I'm in the UK setup involved calling Amazon.com customer support and firstly transferring my Alexa app account to the USA. The operator held on the line whilst I followed a simple process very familiar when setting up any Echo device such as the Echo Buds. There were several screens to skip through and a video tutorial at the end to show you all the settings on the glasses. Once set up the Amazon operator transferred my Alexa app account back to the UK and I was ready to try the glasses out!
Alexa control
When paired with your phone and the Alexa app via Bluetooth the frames bring Alexa capabilities to your face. Just like your smart speakers at home the glasses are always listening out for the "Alexa" command. I found this voice assistant functionality worked well in various settings inside and outside my home with Alexa understanding the majority of my commands correctly. A small blue light inside the front of the Frames lights up when you are interacting with Alexa. It's not distracting, just enough to know that Alexa is listening to you. You can mute the microphones when needed for privacy.
Audio
Two pairs of speakers in the glasses arms use open-ear technology to beam sound into your ears, letting you discreetly access Alexa. I found it easy to hear the voice assistant when I asked for her help. You can also listen to music over Bluetooth from your phone and whilst they will never sound like noise cancelling earbuds the sound quality is reasonably good. The fact the small speakers aren't in your ears brings two advantages; you have no problem hearing the world around you while you are listening to music, and none of the discomfort you often get from extended use of wireless earbuds jammed in your ears.
Since Echo Frames are connected to your phone, you can take or dismiss phone calls, just like any other Bluetooth earbuds, with the touch-sensitive gesture area. When I called my dad he said the voice call quality was very good and clear at his end.
I used my iPhone with the Echo Frames and there are some limitations in integration and features due to restrictions imposed by Apple. For Android users, Echo Frames can read your phone notifications and you can set up a VIP list to only allow certain notifications to be accepted by the frames.
One of the things I found when making phone calls is that the sound in my ears while listening to people on a call was on the quiet side. This was a strange one as music volume was okay. I phoned Amazon support and they suggested resetting the Frames. I tried this but this did not resolve the issue.
The Echo Frames are comfortable to wear
One of the things that really surprised me about the Echo Frames was how comfortable they are to wear. I normally wear extremely light, titanium framed glasses but from the word go the Frames fitted me perfectly and felt extremely light and well balanced despite their size. Both on the bridge and on the temples/ears they felt comfortable even after extended use. Amazon provide instructions for opticians to make fit adjustments to the glasses if they do not work for you.
Battery life
The battery is charged by a proprietary magnetic connector. Amazon says you can expect about "14 hours of battery life in mixed usage of 40 Alexa interactions, 45 minutes of music, podcast or other audio playback, 20 minutes of phone calls, and 90 incoming notifications". In the two weeks that I have used the Echo Frames I found that to be about right. It is not spectacular battery life and there is definitely room for Amazon to improve this before final release of the product. I suspect that many will find the glasses struggling to last a full day despite Amazon's claims.
Accessibility
Accessibility is where the Echo Frames don't quite work for me. Inside the home Alexa has been a real boon for me enabling me to do so many things hands-free with just my voice. However, the Echo Frames still require a fair bit of hand control. For example, you can't answer a phone call hands-free with a "Alexa, answer" voice command, or end a phone call with a "Alexa, hang up" command as you can with a Echo smart speaker at home. You need to touch the Echo Frames to answer or dismiss calls. Due to lack of movement in my arms and hands due to the effects of muscular dystrophy I can't do this. This lack of completely hands-free voice control is probably explained by the fact that Amazon does not have its own smartphone and is limited by the access that a Bluetooth connection to a iPhone or Android phone allows. Hopefully, this can be improved upon as manufacturers allow more open source integration and connectivity of smart devices. I'm sure Amazon will be hoping for this.
The other accessibility issue I experienced is because the Echo Frames need your phone's Bluetooth connection it can monopolise it and on a couple occasions I found that when I had removed the glasses from my face they were still connected to my phone's Bluetooth and this required me to pick up my phone, go to Bluetooth settings, and manually disconnect them. This is problematic for me because of my disability.
Price
The Amazon Echo Frames cost £179.99 (£138.00) by invitation only. The expected retail price if Amazon decides to release them to consumers is £249.99 (£192.00).
Verdict
The Echo Frames are an interesting product that do the simple things well but you are left with the feeling that they are a work in progress only suitable for early tech adopters and not mass consumers at this stage.
The final release price of $249.99 makes the Echo Frames expensive for what they do, which is essentially move the Alexa voice assistant from your phone to your face with a Bluetooth connection. Amazon should look at extending the Frames capabilities such as including health tracking features to make them more of a worthwhile investment.
Instead, the company has gone for simplicity with its first foray into smart glasses technology and in this regard it has succeeded. If you are already entrenched in the Amazon Alexa smart home ecosystem you will enjoy using these glasses to control your gadgets.
If you already wear prescription lenses remember you will need to add the cost of those to the Echo Frames.
As they need to be tethered to your phone via Bluetooth connection you will need your phone with you at all times if you wish to use Alexa and the Echo Frames.
Smart glasses that are easy and comfortable to wear all day have great potential for extending access to technology for disabled people, and promoting independence. I hope Amazon will take all the feedback it receives on board and continue to develop the potential of the Echo Frames when it comes to accessibility.
I have rated them 3 out of 5. If they offered more in terms of accessibility I would have been willing to give them a 4 out of 5 rating.
Pros: always on hands-free Alexa access, convenient way to access Alexa out of the home, no camera to distract you, comfortable fit to wear all day, reasonable sound quality when playing music and interacting with Alexa
Cons: needs a constant Bluetooth connection to your phone, not accessible to people with physical disabilities, low sound levels for wearer when making phone calls, limited functions and no health tracking, limited integration with Apple iPhones