This week has seen Apple release iOS 15.4 for iPhone users. It's a big update that brings quite a few useful new features to the iPhone, including the ability to turn off notifications for personal automations in Shortcuts, and 37 new emoji.
One of the biggest feature updates for me is a new option in iOS 15.4 to unlock your iPhone while wearing a mask with no additional hardware like the Apple Watch required.
Last September, I highlighted how Apple made some changes to the iPhone 13 Face ID setup in terms of both hardware and software, which caused problems for some disabled people who wear Continuous Positive Airway Pressure (CPAP) masks to assist with their breathing.
After upgrading to a new iPhone 13 Pro I found Face ID registration was failing when I was wearing my CPAP mask – which I wear at night to support my weakened respiratory muscles as a result of muscular dystrophy. This was despite the fact that Face ID coped fine with the same mask on my much older iPhone X.
Something appeared to have gone wrong with either iPhone 13 Pro 's more compact TrueDepth camera system, or iOS 15 changes designed to protect against spoofing.
Worked with older iPhones but not new ones
Since the iPhone X, which was the first iPhone with facial recognition, launched in 2017 Face ID has worked well for me with or without my CPAP mask, but that was not the case with the new iPhone 13 Pro I picked up in September.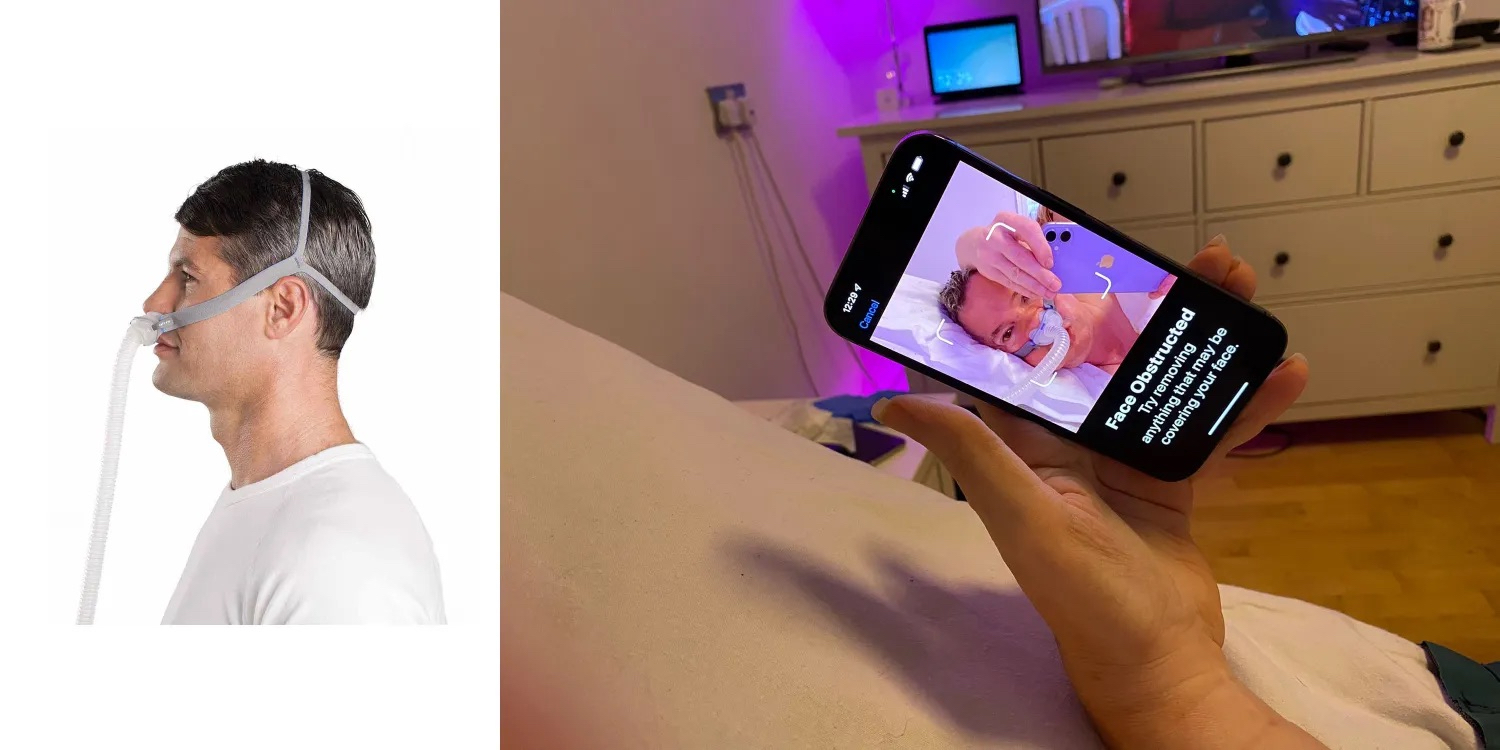 The noise surrounding Covid masks and Face ID failures passed me by as I simply didn't have a problem with my mask on several iPhone models from 2017 to present.
From last September until this week I found myself in the unenviable situation of owning a 4 year old iPhone X that unlocks my iPhone with my CPAP ventilator mask on, with no problem, and owning the latest and greatest iPhone 13 Pro that refused to set up Face ID with my mask on.
In trying to set up a new face on the iPhone 13 Pro I kept getting a message saying: "Face obscured try removing anything that maybe covering your face". If I did that I would quickly suffocate! I didn't have a plan B.
I never got a message pop up during repeated scan attempts of my face that said "Accessibility – do you want to do a partial scan".
I didn't exactly feel comfortable sharing a photo online of me wearing my mask in bed to illustrate the problem, but chose to do so because I felt strongly about the issue, and hoped some publicity would prompt Apple to fix the problem.
Face ID fix
It's been a long wait for a fix but the good news is that Apple has included a feature in iOS 15.4 called Face ID‌ with a mask that is designed to use the area around your eyes for authentication purposes instead of your whole face. It works with glasses, but it is not compatible with sunglasses, and you must be looking at the ‌iPhone‌ to unlock it with a mask on.
It is worth noting that Face ID‌ with a mask is limited to the iPhone 12 and iPhone 13 models only. Unlike the ‌iPhone‌ unlocking feature that uses an Apple Watch to authenticate when you're wearing a mask, the ‌Face ID‌ with a mask option can be used to authenticate Apple Pay transactions and third-party app logins, including banking apps.
Face ID set up
As soon as you update your iPhone to iOS 15.4 you get a splash screen prompt giving you the option to use the new Face ID‌ with a mask feature. Counterintuitively, setting it up requires you to scan your face with your mask off. Once a set up scan is completed you can use Face ID with your CPAP or Covid mask straight away.
If you have problems scanning your face during set up, for example maybe you cannot move your head very much as the result of disability, Apple has always offered a partial scan option in Face ID set up where are you can register a partial scan of your face.
Absolute joy
After six months without Face ID it is an absolute joy to have the functionality back on my iPhone when wearing my CPAP mask. I just need to look at my iPhone screen and it authenticates and opens the phone quickly without needing to input a passcode. It has also been great for logging into banking apps and authenticating logins without having to input a passcode. It really is a case of back to business as usual.
For me Face ID with a mask works just as quick as full Face ID. Apple warns that full Face ID is the more secure option, but mask Face ID is now available.
Final thought
I am at a bit of a loss to explain the last six months without Face ID working on my iPhone. Despite Covid mask wearers complaining that the facial recognition technology didn't work when wearing a Covid mask during the pandemic, I have been using the tech for four years with my CPAP mask without any problems until I bought the iPhone 13 Pro and upgraded to iOS 15.
Apple had clearly been tinkering with Face ID in light of Covid masks and it came at great cost to accessibility for people like me.
We will probably never know why Face ID stopped working with CPAP masks but it's great to have the functionality back and it really does feel like a case of back to the future!