I have been using an electric powered wheelchair for more than 40 years. In the 1980s powered wheelchairs were very basic and did little more than take you from A to B.
Thankfully, over the decades technology has progressed and today there are a lot more options for users. Powered actuators will let you tilt the seat, recline the backrest, extend the leg rests, and raise and lower the height of the seat, all with the press of a button.
Improvements like advanced seating systems, lights, suspension systems, and intelligent steering have been the main developments in electric powered wheelchairs I have seen during my lifetime but all this progress has still left me with a big question, "What's the next real innovation?" A voice-driven electric powered wheelchair?
Instead of looking toward traditional technological advances — to understand the electric powered wheelchair's future, it's time to look at how smart electric wheelchairs can become.
In short, the electric powered wheelchair market doesn't need a new intelligent steering or suspension system. It needs a tech giant.
Not very smart
Powered wheelchairs are not very smart. While some wheelchairs have the option of bluetooth modules for certain functions, and companies like Permobil provide an app that will give you information on individual battery range estimates, distance and seating behavior, no one's thought to revolutionise the electric wheelchair by integrating voice controlled smart technology.
It's got me wondering if I can interest the tech giants, Google, Amazon or Apple in developing a device that gives electric wheelchair users the opportunity to take Alexa, OK Google, and Hey Siri with them outside of the home.
Voice assistants are ubiquitous in my home with Amazon Echo smart speakers dotted about the place to control a number of smart home devices with my voice but outdoors it is a different story altogether.
For this reason, I would like to "Alexafy" my electric wheelchair so the Amazon Alexa voice assistant is integrated and with me when I go outdoors. I don't want a self driving wheelchair, or to control the functions of the electric wheelchair with my voice, (although that could be quite cool), but I do want to be able to take the Alexa voice assistant and her capabilities with me at all times; to check the weather, make calls, get directions, check my calendar and reminders, check and send messages etc all while away from home.
The issue I face is while I can take Alexa with me outside, with a combination of a mobile phone and Amazon Echo Buds, this is dependent on having a carer around to put the wireless earbuds in my ears, and the mobile phone in the side pocket of my wheelchair. I cannot do these two things independently as I am essentially quadriplegic with little movement in my hands and arms.
It means that I can't be spontaneous and leave home on my own independently and still be connected; important for safety, and for keeping in touch with people on the go.
Also, I can't open my newly voice controlled front door from the outside, hands-free, if I don't have wireless earbuds in my ears, and my mobile phone in the side pocket of my wheelchair. If I don't keep my memory cap on there is the danger of popping outside for a moment, with the help of my indoor smart speakers to command the flat door to open, but without my mobile phone and earbuds I have no way of getting back in.
This issue has got me wondering if Amazon, Google or Apple could assist with the ambition of Alexafying, Sirifying or Googlefying my electric wheelchair, and more importantly perhaps develop a device that could achieve this for everyone who uses an electric wheelchair outside of the home. Perhaps you could call such a product "Alexa Wheel", "Google Wheel" or "Apple Wheel".
If my concept is to become a reality there are two initial requirements:
1) Power
Most electric wheelchairs have two 12 volt car batteries under the seat so power will not be an issue and the manufacturer of my wheelchair, Permobil, does a USB charging unit that pulls power from the wheelchair batteries for powering phones and tablets. I believe it only has one USB Input but there must be an option to get a USB unit with two inputs, or a splitter.
2) Internet connection
I would like to keep this separate from my mobile phone, as I cannot pick up my phone myself, so if I left home without my phone I would not have data and an internet connection. I will need a integrated Internet connection fixed the chair at all times such as a USB data dongle.
Possible options
There are a few gadgets on the market which could possibly assist with integration and give me the Alexa experience in my wheelchair wherever I go.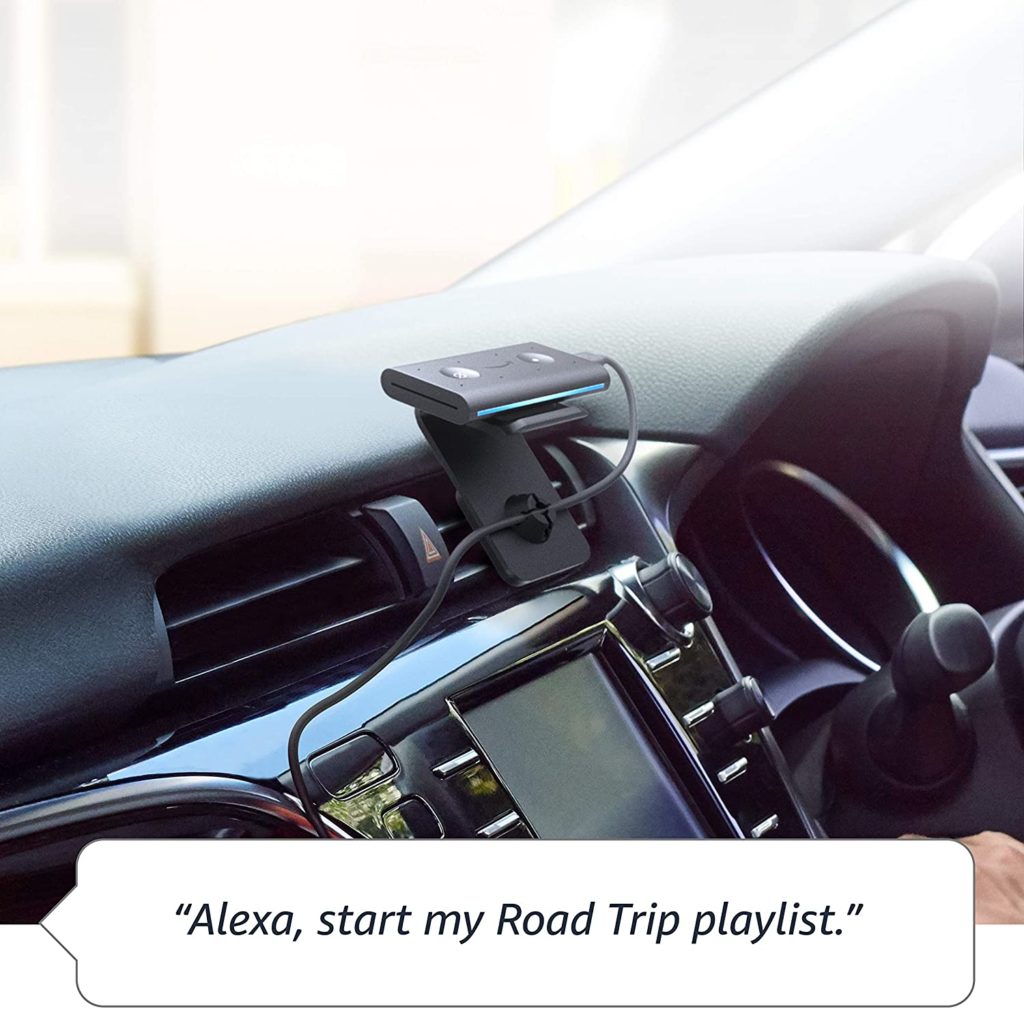 I initially thought of Amazon's Echo Auto which adds the Alexa experience to cars. With 8 microphones, it will pick up my voice far better than a mobile phone, even outdoors in noisy environments.
However, the Echo Auto does not have a speaker and requires a connection to the Alexa app on my phone so I would need to take the phone with me when I go out, which is not always possible.
Possibly, a Echo Dot smart speaker could be used as an alternative to the Echo Auto and I do know that Echo Dot users have had plenty of experience experimenting using the the Echo Dot in cars and outdoors. The Echo Dot does have a speaker. It would still have the same issue of having to have my phone with me when going out.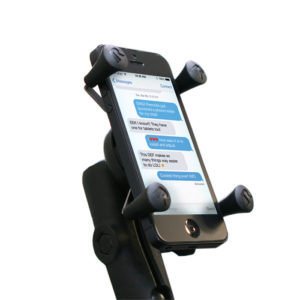 I have been down the route of fixing various phone holder mounts to my wheelchair to hold a mobile phone but I have found them cumbersome, get in the way when trying to get under sinks or tables, and they are not aesthetically pleasing. As with my smart home, I am looking for a wholly voice-driven and discreet solution where I don't need to look at a screen. I would be looking to fix and hide away as much of the kit as possible underneath the wheelchair seat, or at the sides, or back of the wheelchair, out of sight.
If the internet connection is not going to rely on my mobile phone then I will need some kind of internet dongle with a data plan, which I would organise myself and pay for. I'm not sure what is on the market but it would need to work with the Echo or Google hardware chosen, or developed. It would also need to be mounted and powered by the wheelchair, hence the need for possibly two USB connections, or a splitter.
My wheelchair is privately owned and obviously as such I do not mind anyone tinkering around with it in terms of fitting or mounting devices. It is out of warranty so no invalidation risks.
A convenient by-product of this solution is I would need less smart speakers about my home as Amazon's assistant would always be with me by being on my wheelchair at all times.
I very much doubt anyone has tried to Alexafy or Googlefy an electric wheelchair in this way before so I doubt there is an off-the-shelf solution but I am fairly confident that using a combination of hardware, and a internet data plan, it should be possible to come up with something quite neat and solve the problem I am experiencing outside my home. I am sure many severely physically disabled people experience the same problems I am experiencing.
This is not something I could do myself but I'm hoping engineers at Amazon, Google or Apple have the imagination, expertise and sense of inclusion to come up with a solution; not just for me but perhaps something like the Echo Auto could be developed that could be sold to electric powered wheelchair users worldwide.
The premise is simple and straightforward; to provide a hands-free, voice assistant experience that severely physically disabled electric wheelchair users can use outside when out and about in their electric wheelchairs. At the moment too much is reliant on carers setting me up before I go out. I can't do things spontaneously on the spur of the moment when the mood takes me. This is the central issue I want to solve, and as with all consumers of technology it's about convenience.
A big market
Here are some statistics on the size of a potential market for a solution like this.
I am based in the UK and according to the NHS there are 1.2 million wheelchair users in the UK.
In the US it is 3.6 million: This is the amount of people over the age of 15 who use a wheelchair.
6.8 billion dollars: This is the combined projected value of the power and manual wheelchair market in the US in 2018. That's a lot of money!
2 million: The amount of new wheelchair users every single year in the United States.
Granted, the market is not as big as the car market but it is not a small market either.
Ultimate smart powered wheelchair
Rather than just a add-on device things could be taken further with a designed by Amazon, Google or Apple state-of-the-art smart electric wheelchair. Call it "Alexa Wheels" or "Google Wheels", for example. The clever engineers at these tech giants could add in health and biometric features, such as a seat plate that measures your weight whenever you, or your health professional, need to know, and a joystick control that measures your heart rate and blood oxygen levels as you grip it. After all, the powered wheelchair is the ultimate wearable.
Governments around the world buy millions of electric wheelchairs for their citizens as do private individuals. Why not a Amazon, Google or Apple electric powered wheelchair. Why can't such a product become as synonymous as the vacuum cleaner became to Hoover.
The electric wheelchair with its on-board source of power and control functions is tailor-made to be Alexafied or Googlefied and would be a boon to many who spend all of their daily lives in one. It could also be extremely useful for professionals responsible for managing the healthcare of electric wheelchair users.
It's clear from the development of the recent Google Pixel Buds, and Echo Buds, tech giants are trying to offer users the convenience of the voice assistant experience outside of the home. Here is a way they can do this for a sizeable group of people who would really benefit from the opportunity in terms of health, and independence.
A smart electric wheelchair market with products from the tech giants could be great for the industry — leading to more competitive pricing and more customer interest, choice, and independence.
However, all this blue sky thinking is a world away at the moment. I have written to the tech giants with my concept and I am awaiting a reply. In the meantime would you like to use a voice-driven smart electric wheelchair with Amazon, Apple, or Google integration? Let us know in the comments below.