SpeechWare is a Belgian company with a great reputation in the speech recognition industry for professional microphones that are regarded as among the very best you can get.
I have been using the company's USB 9-in-1 TableMike for about three years and have always been impressed with the accuracy of dictation when using it with Nuance's Dragon Professional Individual 15 speech recognition software. You can read more about the USB 9-in-1 TableMike in this excellent online review.
Before I discovered the TableMike I had used many different kinds of microphones, including wired and wireless Bluetooth headsets, with fairly mediocre results when it comes to dictation accuracy. Few consistently delivered the 98 per cent plus accuracy, which should be the minimum acceptable for speech recognition.
The advantages of using a table microphone are not only about dictation accuracy. A table mic also offers freedom and comfort because you don't have to wear anything on your head and in your ears, and you have no wires tethering you to your computer. Optional foot pedal control, for those that can use their feet, adds another layer of convenience to controlling a table mic.
Freedom, comfort and accuracy are particularly important for me because I have a severe physical disability, muscular dystrophy, which means I can't type on a keyboard or screen. As my condition has progressed in recent years I have had to turn to speech recognition software to help me dictate emails, messages, documents, and even this review. I use voice dictation all day every day for practically everything. With my breathing also compromised adding a few percentage points of accuracy to the words I dictate saves energy, which is important for people in my situation.
With wideband audio and noise cancellation, the 9-in-1 TableMike is designed specifically for speech recognition with professional products such as Nuance's Dragon on Windows computers, and its poorer relation Apple's Voice Control on Mac computers. It comes with a 19″ – 24″ telescoping boom that bends at two points: just above the base, and just below the tip, making it easy to position the mic.
However, after three years of use I was left with the nagging feeling that even though the 9-in-1 TableMike boom is long there are sections of it that are inflexible and this is a problem when the base unit is positioned behind the screen of my 15 inch MacBook Pro.
The microphone capsule is just not quite close enough to my mouth to provide the best speech recognition accuracy when using Dragon or Apple's Voice Control. This is something to bear in mind generally when using a table microphone. With a headset the microphone capsule is consistently close to the corner of your mouth but with table mics we tend to sit back in our chairs, turn our heads, and forget our positioning in front of the microphone.
SpeechWare account for this by offering two settings on the TableMike; blue for close dictation – up to 4 inches away from the microphone, and green which allows dictation up to 20 inches away from the mic while preserving extremely accurate dictation. The only downside with the green setting is that it is not ideal for making phone, Skype, or Zoom calls on your computer as the active speech equalisation makes your voice sound artificial. Manually switching between blue and green settings when handling calls is not an option for me due to my disability.
Faced with this growing realisation that I wasn't able to sit comfortably close enough to the 9-in-1 TableMike I reached out to SpeechWare about the problem of finding the sweet spot position for accurate speech recognition, and making phone and video calls.
World's longest boom
The company recommended their TwistMike as a good solution. They say it is the industry's longest boom microphone at 29.5 inches in length. It uses the same mini XLR audio connector, which means it can replace the boom of my existing 9-in-1 TableMike. It plugs in to its base, which is where all the microphone electronic magic happens. The mini XLR audio connector is the professional standard used in broadcasting.
The TwistMike costs €219 EUR (£195 including VAT if you do not have a VAT number). If you don't already own the company's TableMike you will need to purchase the company's USB MultiAdapter or sound card to use the TwistMike, which will cost you an additional €179 EUR (£162 including VAT if you do not have a VAT number). The USB MultiAdapter is perfect for long and close range dictation with the TwistMike and comes with a handy a USB 2.0 to USB Type C converter, (certified for best possible audio transmission), for plugging into a Macbook computer. Most computers have a sound card built in but many lack sufficient quality and noise rejection for good quality speech recognition so you are going to need this USB MultiAdapter if you want to use the TwistMike.
TwistMike specifications
Longest available (75 cm or 30″) portable microphone on the market
Can be connected to any SpeechWare TableMike base with mini-XLR connector or SpeechWare USB MultiAdapter (neither of which are included).
Thin (7 mm)
Lightweight (115 g. or 4 oz)
Easy to bend into the ideal dictating position but at the same time a stiff boom
Can be attached to a table, desk, monitor, workstation or wheelchair with a detachable clamp included, or around the shoulders
Included in the box
1. TwistMike
2. Detachable clamp
3. Cable with professional mini-XLR connectors.
Set up
Setting up the TwistMike was fairly straightforward. The microphone boom fitted into my existing 9 in 1 TableMike base in place of the shorter less flexible boom that came with it when I first bought it.
The first thing you notice when you take the TwistMike out of the box is how incredibly long it is. It is snake-like and completely flexible and bendable meaning it is very easy to position it in exactly the right place in front of your mouth that is comfortable for you.
The TwistMike is too heavy for the TableMike base so SpeechWare include a clamp, which can be used as a counterweight to hold the TableMike base stable in position on a desk. The clamp can also be used for securing the TwistMike to the side of a desk or a wheelchair. I used it as a counterweight on my desk. It was not immediately obvious how to use it in this way but an email to SpeechWare quickly confirmed the situation.
It is worth noting here that the TwistMike can be used in three ways:
attached to a table or monitor
winded on top of any surface as a counterweight
around the shoulders
Accuracy
The TwistMike produces the most accurate dictation I've ever been able to perform with speech recognition software. Simply put it types exactly what I say. This accuracy means I am more productive and less tired and frustrated. As someone who cannot use my hands and take to the keyboard to clear up errors it can be very annoying and tiring if there are continuous errors in recognition. The TwistMike is so accurate I hardly ever have to make any corrections to my dictation anymore.
Comfort
The long, 29.5 inch microphone boom lets me use the TwistMike in a more comfortable position as I sit at my desk. I can move around a little more, shift from side to side slightly more, back away from the screen a little more, and still have excellent accuracy without having to adjust the microphone to keep it within a few inches of my mouth. With the TwistMike I no longer have to lean forward towards the microphone to stay within close enough range for good accuracy. I'm sure this can have benefits for many people, promoting better posture by not having to hunch over a desk to stay within range of the microphone.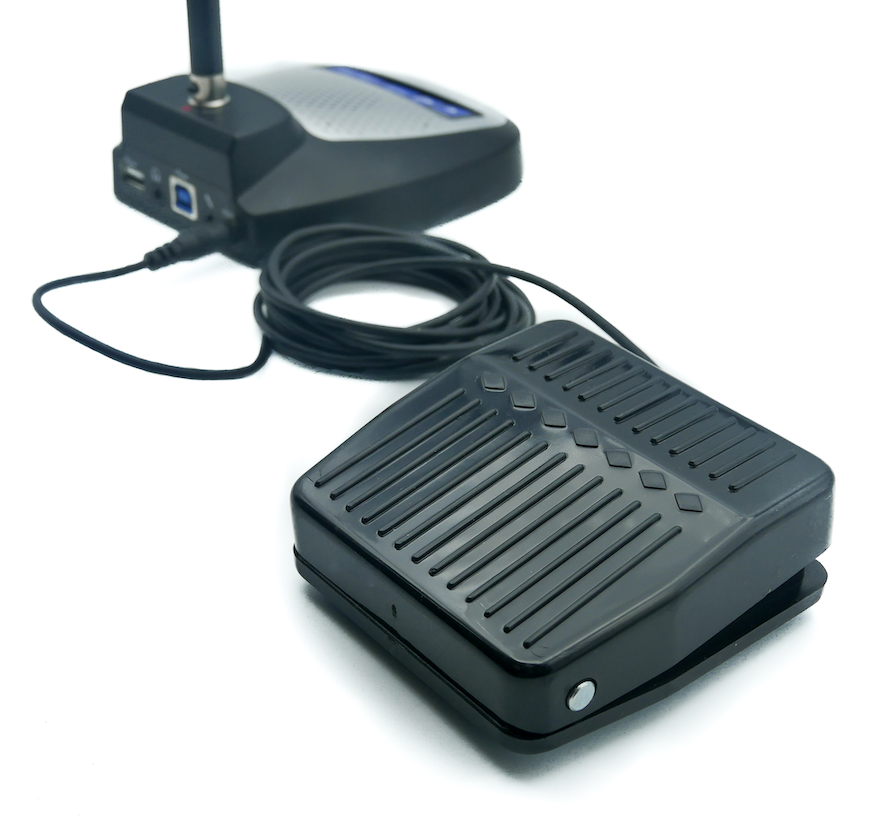 For those that can use their feet an optional foot pedal to control the microphone ON/OFF function adds another level of use and comfort. The foot pedal costs €79 EUR ( including VAT if you do not have a VAT number) and comes with a 6 ft. cord and 3.5 mm jack on the end to connect to the TableMike base.
Observations
If you're interested in the TwistMike, it doesn't come cheap with its €219 EUR price tag, but for someone like me who uses speech recognition technology all day every day I think the investment in productivity and lack of frustration is easily worth it. Anything that improves accuracy means I have more energy for other things.
After a career in broadcasting with the BBC I like to think I know a thing or two about good quality microphones. I have always thought it unfortunate that developers of speech recognition software, like Nuance and Apple, don't pay more attention to the crucial role the microphone plays in achieving accurate speech recognition.
For some reason they hardly mention microphones at all. Perhaps they are fearful of presenting their applications as overly complicated to consumers. This approach is holding back high quality speech recognition on desktop and laptop computers. If you want really productive and accurate speech recognition you should forget about using Apple's Airpods, mass market Bluetooth headsets, or the built-in microphones on laptop computers. You need a professional microphone like those produced by SpeechWare.
Human speech is complex and achieving high quality speech recognition should be supported by good quality microphone technology. Not all microphones are made equal. Most are made for the mass telephony market and restricted to 2.4 Khz. Very few of them are able to reproduce the complex spectrum and nuances of the human voice.
In terms of design SpeechWare's microphones do not echo the clean and modern design aesthetic of Apple products. They have a more utilitarian look, more out of communist East Berlin than Cupertino in California. However, looks don't matter, it's what's inside that counts because these microphones have an important job to do – and it's not to sit and look pretty on top of a table.
Price
The TwistMike costs €219 EUR (£195 including VAT if you do not have a VAT number), and is available for purchase from SpeechWare's website. Remember you will also need to purchase their USB MultiAdapter for an additional €179 EUR (£162 including VAT if you do not have a VAT number).
It is worth noting that if you are planning on dictating close to the microphone the company also sell a cheaper USB adapter which operates on the blue close range dictation setting only and this is priced at €89 EUR (£80 including VAT if you do not have a VAT number). It also comes with a certified USB 2.0 to USB Type C converter for perfect Mac compatibility.
Verdict
The SpeechWare TwistMike is a professional microphone that helps deliver highly accurate speech recognition.
If you dictate often and want a comfortable, flexible solution, and don't want to wear a headset that chains you to your desk, the TwistMike is the best choice out there. With excellent speech recognition, and great flexibility in positioning, this is the microphone for you.
It won't be for everyone but the SpeechWare TwistMike is a unique microphone worth paying attention to for accurate speech recognition with products like Nuance Dragon and Apple Voice Control.
Pros: accuracy, great flexibility in positioning, comfort, dictate in a more relaxed position, and aids better posture sat at a desk, foot pedal option when connected to a TableMike base
Cons: takes up a lot of desk space, looks unusual, expensive